Return to site
When is the best time to post on Facebook and Instagram?
To increase the engagement on your social media posts, you want to make sure you are posting at the best time for your audience.
But what does that mean?
Well, you need to know the times of the day that your ideal audience is active on social media and therefore, most likely to take the time to engage with your content.
The Algorithm Favours Timeliness & Recency
Timeliness/recency of posts is one of the key factors the Facebook and Instagram algorithms use to determine what posts to show to your audience. This means that recent posts are prioritised. Recent is good, now is even better.
So if you know your audience opens up the app at 3pm most days, your post at 3.15pm has a pretty good chance of being seen by the right people.
Let's find out when your audience is online!
What Time To Post, If Your Account Is New/Inactive
If your account is new or you haven't posted enough content yet to see a trend emerging, you need to test.
I run several accounts across different niches and over the years I have noticed trends in posting times. They vary slightly from niche to niche, time zone to time zone, but it's a good place to start.
Test out your content across these three times of the day if you are starting out new or trying to revive an inactive account.
For Facebook
9am
1pm
7pm
For Instagram
8.15am
3.15pm
6.15pm
These are three peak activity times across the two platforms. Chances are your best time of the day to post is one of these slots or close enough to it.
Try them out, and after 7 days of posting check your Facebook and Instagram insights and you will see a trend emerging showing when your audience is most active.
Facebook insights is a great tool to help you grow your account, learn more about your audience and even understand what content is working best.
Click on to the insights tab on your Facebook Business Page and click on the 'Posts' tab (pictured below).
This will tell you the days of the week and the times of the day that your audience is most active. Use it to guide your posting times.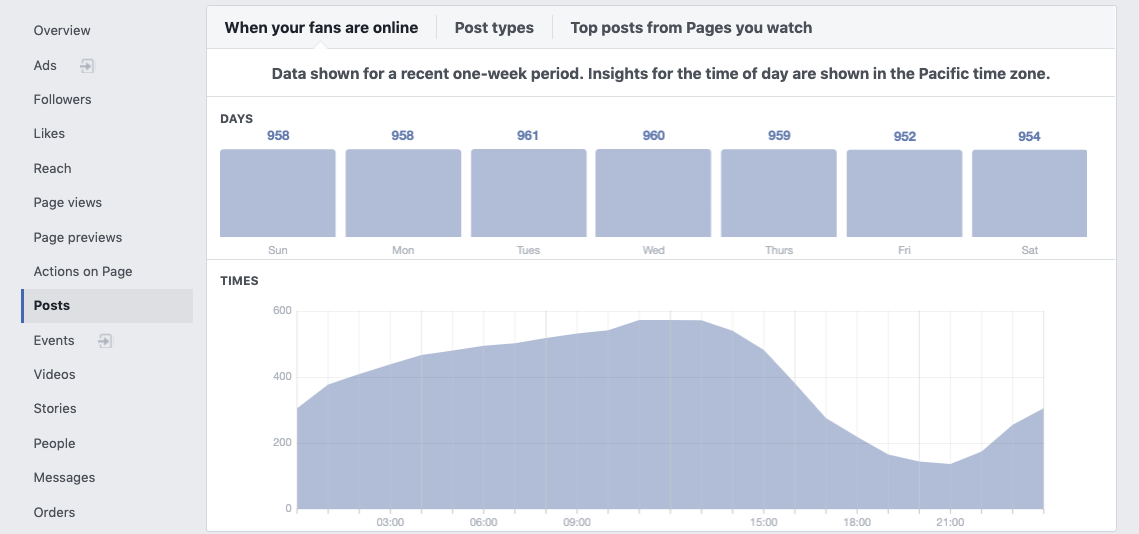 From this screen shot of Facebook insights, we can see that the best time of the day to post for this account is between 11am - 1pm. There is no best day of the week, all days show similar activity with only minor fluctuations.
Instagram have their own insights. Although Facebook and Instagram are owned by the same company, your audience can behave very differently on each platform.
So it's important to check your insights separately and use the data from the insights of each platform to guide your posting times.
On Instagram, you will find your insights in the drop down menu on the top right of your account (the three lines, or 'burger' as some call it).
Instagram splits its insights into three categories;
Go to audience and you will see demographics of who your audience is as well as the best times of the day and week to post (pictured below).
From this screenshot of Instagram insights, you can see that the best time on a Wednesday for this account is between 6pm and 9pm. There is no major difference in what day of the week, just like Facebook the audience is pretty active throughout the week.
There is a great little app you can plug into your Instagram account to tell you when the best times are for you to post.
It's called When To Post and it looks like this.
I use it myself and find it pretty accurate. It's a free app that tells you when most of your followers are active on Instagram and therefor more likely to engage with your content.
It's important to test out times and pay attention to insights. I see loads of articles and advice saying that such and such a time is the best time to post on Instagram.
And that may be true, but for that account.
You have a unique account and a unique audience, so it may be better for you to post 15 minutes later than me.
The key is to test it out, pay attention to your insights and tune in with your audience. Do this for even a week and you'll start to see a difference!
Did you find this post helpful?
If you want me to work on your social media content with you, that's something I offer inside of my 12 week program. Get on the waitlist to learn more!